The Mudjacking / Pressure Grouting Process
of Raising and Leveling Concrete
STEP 1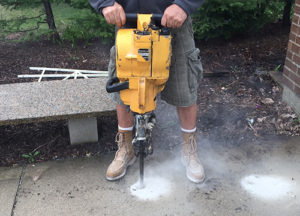 We drill strategically placed holes into the existing concrete slab.
STEP 2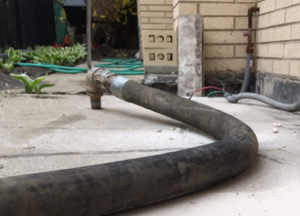 We fill the holes with a special cement mixture to lift the slab into place.
STEP 3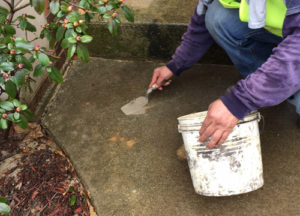 Once the slab is raised, we fill the holes and it's ready for use in just a few hours!
What is Mudjacking?
(Slabjacking, Concrete Raising, Pressure Grouting)
Concrete mudjacking (also called slabjacking) is an alternative to replacing sunken or uneven concrete that restores the sunken concrete slabs to their original grade. It is the process of raising or stabilizing the faulty concrete pavement and is performed on cracked and sunken concrete slabs such as driveways, steps, sidewalks, patios, concrete pavement floors and other slabs on grade surface. It is referred to as slabjacking or mudjacking when lifting or leveling is involved or simply pressure grouting where void filling is the sole objective.
Preformed properly, slabjacking can not only bring the concrete up to grade, it can also eliminate costly and irritating water problems by filling hidden cavities under the concrete and diverting water away from the foundation. If your concrete is sinking, there is a very good possibility that the concrete slab was installed on poorly compacted fill dirt. Sub-surface erosion and shrinking soils are also possibilities.
Mudjacking (or slabjacking) is performed by drilling strategically placed 1-5/8″ holes through the top surface of the existing slab and then using our specialized equipment, a special flowable Portland cement grout mixture is pumped into the holes and underneath the slab. As the mixture flows beneath the surface, voids and depressions are filled, the grout becomes pressurized and the slab is hydraulically raised to achieve the desired height. Lifting a slab using this method can often be accomplished in just a few hours.
One of the best parts of the mudjacking process is the cost is 60 – 80% less than tearing out the slab and replacing with a new one.
The estimator came out and gave me an estimate and thoroughly explained what needed to be done. A date and time was set and the crew showed up promptly as scheduled. Work was done as promised, cleanup was thorough and my water draining problem was solved!