About Us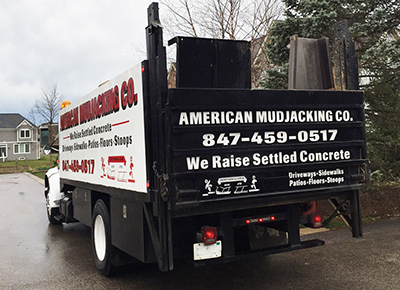 Established in 1983, we are a family owned and operated company using modern and effective methods for raising and leveling concrete. Some equipment we use for this process are a hydraulic grout pump and a concrete saw to cut joints that may be stuck together. This allows us to be successful in jobs where others may fail.
We also use a gasoline powered concrete drill to drill holes. There are a lot of corrective measures for restoring concrete slabs, walks, stoops, etc., but settling concrete can be prevented when using our method. We have saved people hundreds of dollars by raising and leveling patios, driveways, sidewalks, steps, stoops, pool decks, factory floors, garage floors, even filling in voids in driveways to prevent settling.
See Before and After Photos.
Some companies try to cut corners by drilling fewer holes only to leave you with unseen void areas and concrete that will resettle. Give us a call. The little money you spend now may save hundreds of dollars in the future.
Concrete Raising / Mudjacking
is Our Specialty
We focus on what we do best. Other companies might do a variety of concrete work, including some occasional mudjacking. American Mudjacking is in the business of concrete raising and leveling. It is what we do and we make sure we do it well.
American Mudjacking is fully insured and bonded and is an A+ accredited member of the Better Business Bureau (BBB).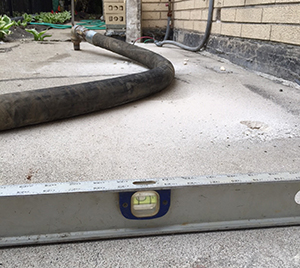 Happy Customers
In addition to the many homeowners we have served, here are just a few of our other satisfied customers:
American Landmark Properties
Beacon Cove Palatine
Branden Berry Park Arlington Heights
Buffalo Grove Creek Apartments
College of American Pathologists Northfield
Comerica Bank Franklin Park
Community Saving Bank Chicago
Coromandel Community Association Deerfield
Decoma Day Camp Northbrook
Fox Boro Apartments Wheeling
Green Bay Townhomes Glencoe
Kmart Chicago
Kmart Round Lake Beach
Lutheran Church of the Ascension Northfield
Lutheran Home Arlington Heights
Mallard Lake Apartments Wheeling
Mission Hills Northbrook
Motorola
Park Ridge Community Assoc.
Paving Solutions
Rob Roy Prospect Heights
Snow Systems Inc.
St. John the Baptist Des Plaines
St. Norbert Northbrook
The Heritage of Des Plaines Senior Living
The Prudential
Willow Dayton Townhomes Chicago
York Brook Apartments Bensenville
Very professional. They came out, gave me a written estimate and completed the work in 2 days. Very easy to work with, did what they promised. Followed up with a phone call to make sure I was satisfied. I would definitely recommend them.