Frequently Asked Questions
What causes concrete to settle?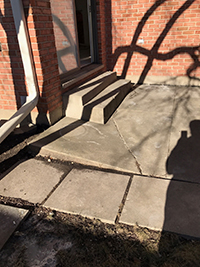 There are various reasons why your concrete could be settling and cracking causing it to sink and be uneven:
Construction – Sometimes in new construction, the backfill around the foundation is not compacted properly. This will create voids and the concrete may settle the backfill around utilities, such as a sewer line that was replaced, will setlle over time.
Erosion – If the slab is on a hill and water starts running into an open crack, control joint, or alongside the slab, this will eventually wash out the supporting soil and cause the slab to settle and crack.
Time – Over a period of many years the slab will settle so slow, that you just don't really notice. But one day, for some reason, it will come to your attention.
Excessive weight – You may have a large vehicle, or pile of landscaping material, etc. that is left on the slab for a prolonged period of time. This will accelerate the settlement process.
Rodents – Animals can create major tunneling which leads to voids.
What is the difference between "Mud" and Grout Mix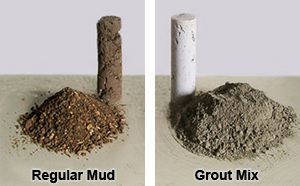 Regular mud is just simply that, dirt/clay mixed with water into a slurry that is pumped under a slab. It does not contain any stabilizers in the material to keep it from shrinking or settling. Stabilized grout contains soil stabilizers like Portland cement to keep the grout stable from breaking down and settling. We use a special stabilized grout mixture.
Are there other terms used to describe mudjacking?
Yes. Mudjacking is also called slab Jacking, concrete lifting, concrete raising, slab leveling, void filling and grouting or pressure grouting.
Is mudjacking a new way to fix sunken concrete?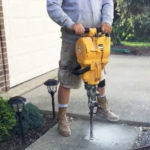 Mudjacking has been around since the 1950s. It's a common repair method used mostly in the mid-west region of the U.S. The concept is very simple, but should only be attempted by professionals, as it requires experience and specialized equipment to get the work just right.
What is mudjacking used to fix? Will it work to fix my garage floor?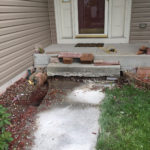 The process of mudjacking can be used for most any flat concrete slab. Driveways, concrete patios, sidewalks, walkways, steps, stoops, pool decks, factory floors, garage floors, and concrete interior floors are all good example of its uses.
Some of these applications may be very obvious and you will see that slab has settled, however sometimes it is not so obvious. It is possible that the ground has settled or a sink hole is under the slab. Mudjacking can also be used to fill the void under the slab and support the concrete slab before any damage has occurred.
How does it work?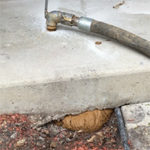 A number of 1-5/8th inch holes are drilled in the sunken concrete. A specialized concrete grout mixture is pumped through into holes under the slab. When the void under the sunken concrete is filled with the mixture, the concrete will raise. The holes are patched with concrete and the surface is ready to use.
Learn more about the process here.
What are the advantages of mudjacking?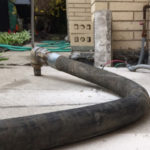 The cost of mudjacking averages a fraction of the cost of replacement. Mudjacking is faster, cleaner, and more cost effective and it is typically a permanent fix to your concrete problems.
How long before I can walk on it once it's done?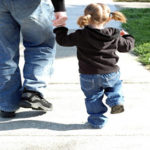 Depending on the job, it could be immediately or just a couple hours.
How much does it cost?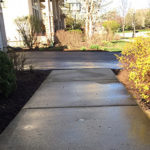 Mudjacking is approximately 60 – 80% of the cost for removal and replacement of concrete. The saving is even larger when you consider mudjacking does not disturb landscaping.
Do you give free estimates?
Yes. All estimates are completely free and with absolutely no obligation.
Why should I use American Mudjacking?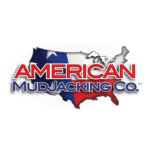 American Mudjacking uses an industrial quality grout mixture (no soil is added to our mix) that has extremely low shrink and is 100% stable. We provide fast, professional and courteous service and we extend a two year warranty for all of your concrete raising work. We perform mudjacking for all applications: residential, industrial, commercial and municipal.
Is your work dusty or loud?
We use a gas drill that creates a small amount of dust and our equipment is powered by small lawn mower size engines.
How many trucks are going to show up in the front of my house (or work/office)?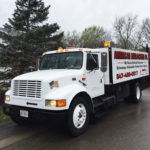 Just one truck. All of our equipment is self contained and the materials are mixed on site.
Is there a warranty?
Yes. There is a 2-year warranty.
Are you insured?
Yes. We are fully insured and bonded.
We had two slabs of our front sidewalk leveled and lifted to align with the adjoining pieces. They also filled in under our porch slab to prevent it from sagging. It was a small job, but they made it out to our house within a week and took care of us. AND they were able to do it with minimal disruption and mess.